This DIY will help guide you while you install the deAutoLED MK7 HID Conversion Kit.
(All links open in a new window)
Link to Product Listing to Purchase:
MK7 GTI H7rc HID Conversion Kit (Halogen to HID)
Step 1: Remove Bumper
Bumper Removal DIY
Step 2: Pull out the 2 black wires inside the headlight and crimp t-taps on each wire and tap wire. This will create your power source.

Step 3: Place H7RC bulb through adapters and install adapter/bulb in the housing. REMINDER DO NOT TOUCH THE BULB.

Step 4: Cut holes into dust cap by using a 13mm socket and pounding it with a hammer until a hole is created, you can also use a drill or razor blade. Pull through wires, hooking everything up to the HID ballast: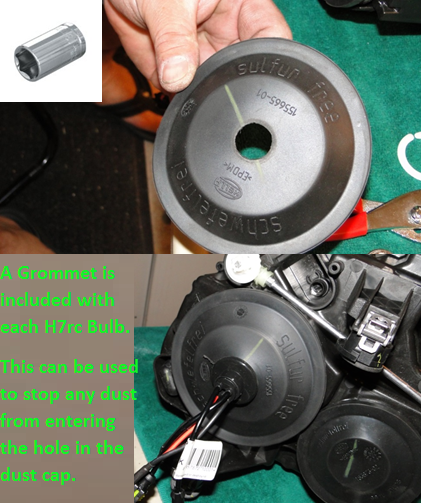 Step 5: Place the metal prongs on the H7rc Bulb inside the t-taps-these are polarized, if it does not light up, switch them:



Step 6: After connecting all the wiring here is what it will look like: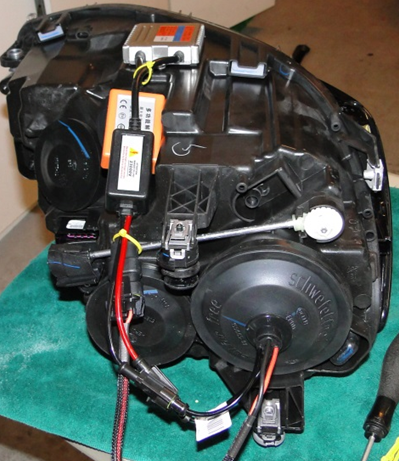 Step 7: Test the lights to make sure they light-if they don't-check connections or switch H7rc prongs in t-taps:

These produce a similar cut-off as OEM Halogen bulb - the only difference is our H7rc kit will light more of the road with a bright white light temperature similar to OEM Xenon bulbs that come installed with the MK7 GTI Lighting Package: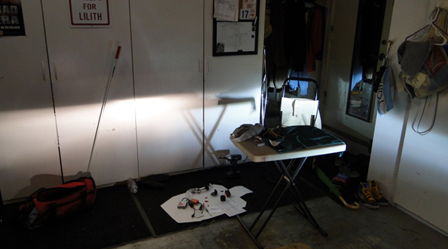 This is a photo of OEM Xenon HID kit in a projector lens (also known as the MK7 GTI Lighting Package) vs Our H7RC in a reflector housing - you will notice that both light up the street in the same manner without blinding anyone else on the road:





*** deAutoLED is not responsible for any hazards, injuries, or other mishaps while doing this DIY/Install, this is only a guide and we are not liable, please install at your own risk.