H15 or H9 Daytime Running LEDS & High Beams - 100% Plug & Play Fits: Volkswagen / Audi / many models

(Please CLICK HERE for an International/Overseas/Canada Shipping Quote!
(Shipping within the US is 100% FREE)

These H15 LEDs are a BRAND NEW 2017 Technology - they are custom made to work and fit in your Volkswagen and Audi models perfectly.
-Improves depth perception while driving at night
This is a must have upgrade for any halogen housing - transform your halogens in seconds.
-Error Free
-100% Plug & Play
**NO Splicing | NO special Adapters | NO Coding | NO Resistors**
**Instant ON/OFF - no warm-up time! You have instant 100% bright light the second you turn these on, perfect for when you quickly need bright light.
(2) H9 - For 2018+ MK7.5+ Models
(2) H15 DRL LEDs!
These can fit all housings with H15 DRL/High Beam and not limited to the list below:
2010+ - all MK6 / MK7 GTI / GOLF With Halogen housings
2012-up Volkswagen Tiguan
2010-2012 Audi A5/S5
2012-up Audi A6/S6
2010-up Audi Q7
2014-up BMW 2 Series
2013-up Mercedes Benz GLK-Class
2016-up Land Rover Discovery Sport
-These are a clean 5500k white color temperature and very bright.
-It will be like having a light bar on your car.
-These distribute heat with metal fabric (fabric can be spread and placed into your dust cap - no drilling)
-These have a glare shield so they mimic the light beam pattern of your halogen bulb (ONLY A LOT BRIGHTER)
When using high beams correctly they can be a powerful tool while driving:
-Perfect for dark back-roads
-Perfect for turning into dark roads with no other cars around
-Must have if you live in a rural area with many dark roads and no cars - these High Beams will be your new favorite addition to your car!
-Creates a lot more light on the road
-Brightest High Beam available
A clean DRL is not only safe it is a cleaner look to your car:
-During the day these are better visible in direct sun light
-Give an updated clean LED look to your headlights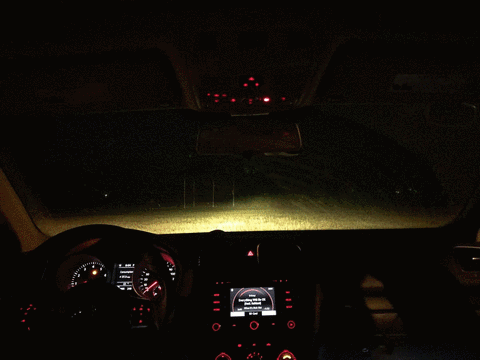 ----Review----

Review